Teacher program's leader shares goals with legislators by Michael R. Wickline | Arkansas Democrat-Gazette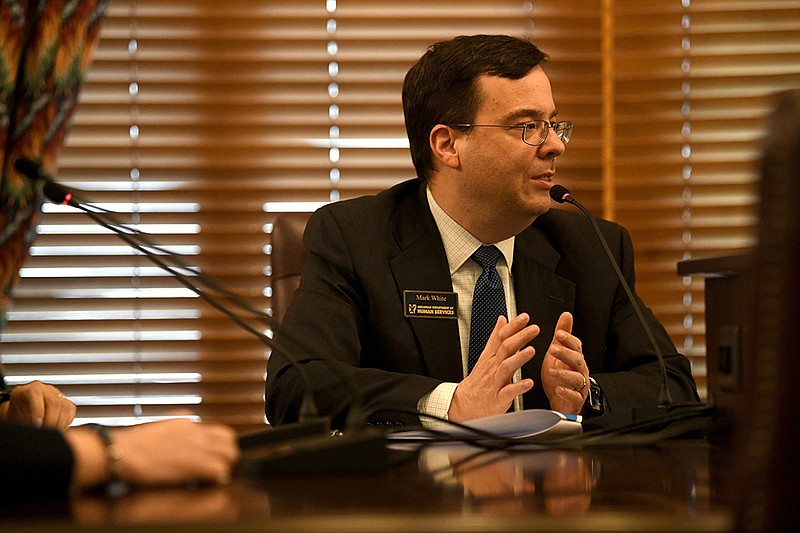 Mark White, Chief of Staff at the Department of Human Services, introduces his staff during a meeting of the Senate Committee on Public Health, Welfare and Labor on Wednesday, Jan. 18, 2023…(Arkansas Democrat-Gazette/Stephen Swofford)
The Arkansas Teacher Retirement System aims to increase its coordination with the state's Employee Benefits Division, and increase its focus on educating its members so that they understand their options, the system's executive director told state lawmakers Thursday.
Mark White, who started work as the system's executive director in July, said he also wants the system to improve the quality of its service to its members, and develop a strategic plan for the system.
During a meeting of the Joint Committee on Public Retirement and Social Security Programs, state Sen. Kim Hammer, R-Benton, told White, "The rumor mill out there is that the fund is going to be raided to pay for teacher salaries and other things.
"Do you have any knowledge of that sitting here today, or did you participate in any conversations about that and have you been approached about considering that?"
In response, White said, "No, no and no.
"I know that rumor is out there," he said. "I have been trying to find the source of that rumor. It has been coming up for weeks now, but I have talked to policymakers. I can say for certain we can find no evidence of a plan for that. No one has approached us with that plan, and we are not aware of any such discussions around any such plan."
White is a former chief of staff at the state Department of Human Services.
Asked after the committee's meeting whether anybody in Gov. Sarah Huckabee Sanders' administration has proposed raiding the teacher retirement system to pay for teacher salary increases or is considering that option, Sanders spokeswoman Alexa Henning said Thursday in a written statement that "No, that's not true."
The teacher retirement system is state government's largest retirement system with more than $20 billion in investments and more than 125,000 working and retired members.
White told lawmakers he wants the system to increase its coordination with the state's Employee Benefits Division. "Even though we do not have any authority or control over those health insurance issues, those health insurance questions directly relate to our members' retirement.
"They very often make decisions on health insurance at the same time they make retirement decisions," he said.
He said he wants the system to do a better job of coordinating with the state's Employee Benefits Division to help make these decisions easier for the system's members
To help educate system members, White said the system has a call center staffed to advise system members and explain their options to them.
"I think the more we can have opportunities for members to find their own answers through our website or through a member handbook, that will help reduce the flow to that call center and also be more convenient for that member," he said.
White said he also wants to improve the system's processes and make sure the system's quality of service is at the top level.
"In state government there is always room to improve on customer service, no matter how good an operation you may have, so we want to look at every opportunity we can find to improve the quality of our service to our members," he said.
White said he also plans to work with system staff, members and trustees on a strategic plan in the next few months to help guide the system's choices and decisions in the future.
"Yogi Berra once said, 'If you don't know where you are going, you will end up someplace else,'" he said.
Read the full article HERE.