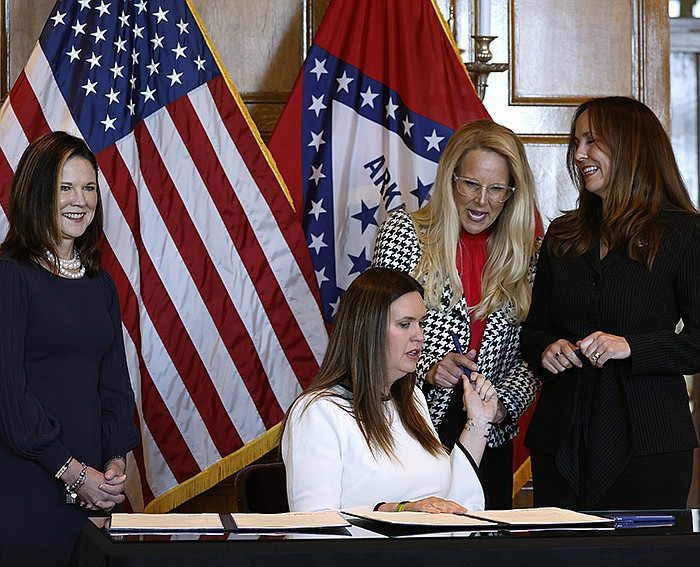 Gov. Sarah Huckabee Sanders hands a pen to Rep. DeAnn Vaught, R-Horatio, as Kristi Putnam (left), Secretary of the Arkansas Department of Human Services, and Sen. Missy Irvin (right), R-Mountain View, look on during a ceremonial bill signing for a law allowing up to 12 weeks of maternity leave for state employees on Monday, April 24, 2023 at the state Capitol in Little Rock. (Arkansas Democrat-Gazette/Thomas Metthe)
by Neal Earley | Arkansas Democrat-Gazette
Gov. Sarah Huckabee Sanders held a ceremonial bill signing Monday at the state Capitol, touting a new law that extends paid maternity leave for state employees from four to 12 weeks.
Sanders signed the paid maternity leave bill into law April 12 but held a ceremonial signing Monday, saying it puts the state in line with "the industry standard" offered to some in the private sector. The Republican governor said the increase in paid maternity leave was to help prevent losing state government employees to the private sector, where benefits may be more generous.
"As a mom of three kids, I know the difficulties that so many parents have juggling that work-life balance," Sanders said. "And so we're hopeful that this will not only help all the new moms that work for state government, but also help get the state [a] competitive advantage when we're hiring."
In addition to maternity leave, the law also applies to those adopting a child or taking care of a foster child under the age of 1.
"It's been so great to do this on behalf of women in the state of Arkansas to be able to have that time to be with their babies and for them, themselves, to recover from that process," said Sen. Missy Irvin, R-Mountain View, a sponsor of the legislation.
The state first began offering four weeks of paid maternity leave for government workers, with male employees donating some of their paid time off to help offset the costs, Irvin said.
As for whether the state should require the private sector to offer 12 weeks of paid maternity leave, Sanders said she supports leaving that decision up to individual businesses.
Sanders also held a ceremonial signing for a law that will give state government employees 40 hours each year of paid leave for taking care of a foster child under Act 756, sponsored by Rep. DeAnn Vaught, R-Horatio.
Under the bill, "foster leave" can include time off to bond with a child for "adjustment purposes," attending school placement meetings, court hearings and case-planning activities.
"We know how important it is for parents to have time to bond with their kids and spend those initial first few weeks at home while still being able to maintain their employment," Sanders said.
Read the full article HERE.