Bump surpasses $10,000 for 184 agency employees
by Michael R. Wickline | August 6, 2023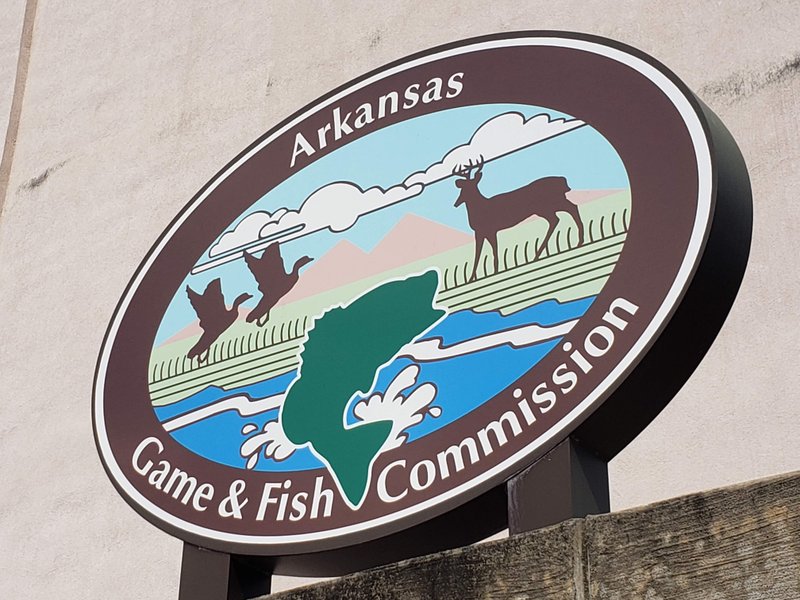 FILE — An Arkansas Game and Fish Commission sign in downtown Little Rock is shown in this 2019 file photo. Arkansas Democrat-Gazette
One hundred and eighty-four Arkansas Game and Fish Commission employees received raises of at least $10,000 at the start of this fiscal year, state records show.
They make up more than two-thirds of the 262 state employees who work for executive branch agencies and other offices and agencies who were awarded pay increases of at least $10,000 in fiscal year 2024 that started July 1 and who work outside the state's colleges and universities, according to state records.
The Arkansas Game and Fish Commission employees' raises come after the Legislature and Gov. Sarah Huckabee Sanders enacted changes to the commission's pay plan as part of the commission's appropriation, Act 601, for fiscal 2024 during this year's regular session.
According to state records, commission employees receiving the largest raises exceeding $30,000 a year in fiscal 2024 include:
Operations chief Michael Cantrell, whose pay increased from $78,645.01 to $113,822.18 a year.
Wildlife Management Division Chief Luke Naylor, whose pay increased from $77,464.82 to $111,714.30.
Deputy Director Bradley Carner, whose salary increased from $100,139.52 to $130,894.82.
Commission Director Austin Booth said Friday the commission employees' base pay is increasing by approximately 17%, which is still below the 19% disparity from the commission's competitive hiring market.
The commission has 585 full-time employees and their average pay has increased from $54,150 to $63,305 a year, he said. Of the 428 employees who received a pay increase to their base pay, the average increase was $9,871 a year, he noted.
Booth received a pay increase from $145,706.50 to $152,637.89 a year at the start of this fiscal year, according to state records.
"Compensation at AGFC is certainly one area where we've been dealing with the consequences for a long time and neglecting the core problem: that our compensation has remained flat for roughly a decade compared to our competitive hiring market," Booth said in a written statement.
"Specifically, AGFC has lost roughly a third of our personnel in the past five years, and recruiting new hires has become incredibly challenging," Booth wrote. "One position comes to mind that had to be re-advertised 9 times to fill. Nonetheless, after stepping into this role two years ago and recognizing that compensation was a perceived problem throughout the agency, we quickly sought to validate whether it was an actual problem. To this end, we contracted with a third party to study objectively our competitive hiring market and the results were jarring: on average, AGFC's compensation was 19% below market."
"Based on their results and recommendations, we adjusted the entry pay and maximums to simply be competitive with our state and multi-state hiring market," he said.
Booth said this effort was not employee-specific, but instead it was position-specific.
Read the full article HERE.